THE SUPPORT

CrossSections is primarily supported by its partners Kunsthalle Exnergasse - Werkstätten und Kulturhaus (WUK) in Vienna; iaspis - the Swedish Arts Grants Committee's International Programme for Visual and Applied Artists and Konstfack - University College of Arts, Crafts and Design, and NFK - The Nordic Art Association in Stockholm; Nya Småland in different locations in Sweden; HIAP - Helsinki International Artist Programme and Academy of Fine Arts - University of the Arts Helsinki in Helsinki; Center for Contemporary Arts, Estonia - Kaasaegse Kunsti Eesti Keskus in Estonia; and Press to Exit Project Space in Skopje.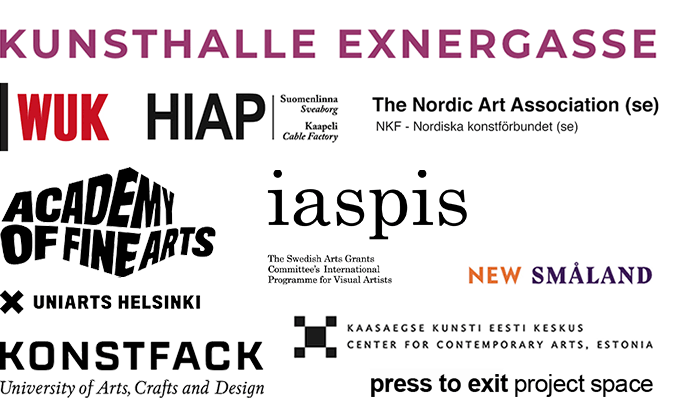 The project and the book of the project is generously supported by Saastamoinen Foundation.



Alongside from its partners and the Saastamoinen Foundation , CrossSections has received support from the Austrian Cultural Forum Istanbul; the Consulate General of Sweden and the 15th Istanbul Biennial, organised by the Istanbul Foundation for Culture and Arts (IKSV) , Pera Museum, and TECHIZART in Istanbul; Federal Chancellery [Bundeskanzleramt], Universität für angewandte Kunst Wien (The University of Applied Arts Vienna), Zentrum Fokus Forschung and Erdal Kayhan in Vienna and Publics in Helsinki, Art Council of Ireland and Culture Ireland in Dublin.